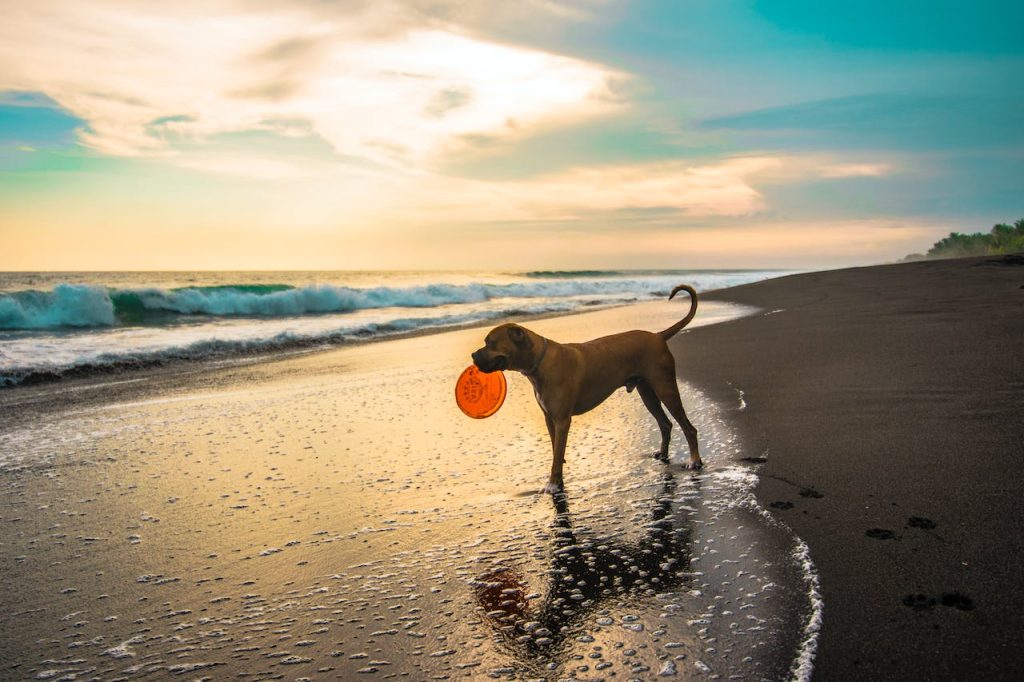 For a country steeped in maritime heritage, the United Kingdom is graced with a vast array of stunning beaches. Many of these beaches are dog-friendly, offering fantastic spots for both you and your four-legged companion to enjoy the sun, sea, and sand. 
Here, we explore ten of the best dog-friendly beaches in the UK where both you and your furry friend can make unforgettable seaside memories.
1. Whitby Beach, North Yorkshire
Whitby Beach is a picturesque sandy stretch with towering cliffs forming a stunning backdrop. 
Known for the famous Whitby Abbey and its links to Bram Stoker's Dracula, this beach offers a historical charm. Dogs are allowed all year round at the Tate Hill section of the beach, providing ample space for your pup to explore.
2. Rhossili Bay, Swansea
Voted as one of the best beaches in Europe by Suitcase Magazine, and the UK's no.1 dog friendly beach by The Times, Rhossili Bay boasts three miles of golden sand and is managed by the National Trust. 
This beach is known for its exceptional beauty and the tidal island, Worm's Head, at the southern end. Dogs are welcome all year round, making it an ideal spot for long, scenic walks with your canine friend.
3. Holkham Bay, Norfolk
Situated on the North Norfolk coast, Holkham Bay offers vast sandy expanses backed by pine woodland. This stunning, unspoiled beach is part of one of the largest Nature Reserves in the country, rich in wildlife. Dogs are allowed throughout the year, offering them plenty of room to stretch their legs.
4. Perranporth Beach, Cornwall
Cornwall's Perranporth Beach is a 3-mile long sandy haven, known for its excellent surf and extensive dunes. The Watering Hole, reputedly the UK's only bar on the beach, offers a dog-friendly spot to refuel. 
Dogs are allowed year-round but must be on leads in the summer months between 10 am and 5 pm.
5. West Wittering Beach, West Sussex
This beach is an ideal destination for a family day out. West Wittering Beach is known for its superbly clean water and beautiful grasslands. 
The area offers parking and facilities, including a dog washing area, which can be handy after a fun-filled day. Dogs are allowed on the beach but are restricted to certain zones during the busy summer season.
6. Bamburgh Beach, Northumberland
Bamburgh Beach, with the iconic Bamburgh Castle overlooking the shore, offers dramatic scenery and a vast sandy beach. 
This beach is perfect for long walks and even offers views of the Farne Islands. Dogs are welcome all year, and with miles of beach to play on, it's a great place for fetch and off-lead play.
7. Camber Sands, East Sussex
Camber Sands is known for its dunes and is the only sand dune system in East Sussex. This wide, sandy beach offers plenty of space for your dog to run and play. Dogs are allowed all year, although restrictions apply from May to September on certain parts of the beach.
8. Woolacombe Beach, Devon
This award-winning beach, with its three miles of easy-going surf and sand, is a favourite among locals and tourists alike. 
Woolacombe Beach is perfect for dogs that love to swim as it is known for its clean and clear waters. Dogs are allowed on the beach throughout the year, with summer restrictions on certain areas.
9. Sandymouth Beach, Cornwall
Managed by the National Trust, Sandymouth Beach offers a large expanse of sand backed by dramatic cliffs. 
This beach has a stunning waterfall, rock pools to explore, and great surfing conditions. Dogs are welcome throughout the year, making it a year-round paradise for your pup.
10. Formby Beach, Liverpool
Formby Beach is a beautiful sandy beach backed by dramatic sand dunes and pine woods that are rich in wildlife. It's an excellent location for a walk, with marked paths through the dunes and woods. 
Dogs are welcome, but owners are requested to keep them under close control due to the presence of the rare red squirrel in the woodland areas.
Conclusion
The UK is brimming with beautiful, dog-friendly beaches that offer everything from golden sands to stunning dunes, and even the occasional beach bar.
Remember, wherever you choose to visit, ensure you adhere to local guidelines, keep your pet under control, and respect the wildlife. Always clean up after your dog to maintain these beaches' beauty for everyone to enjoy. With these ten beaches as starting points, you and your dog can embark on an unforgettable coastal adventure.